As we digest the ongoing rapid developments in Ukraine, we note the immediate dramatic market reaction that is occurring. This is a typical response to geopolitical tensions and something that we have come to expect.
We continue to monitor market volatility using the established Vix index, also known as the fear index. At the height of the Covid pandemic in March 2020, the index rose to over 80. Around 15-20 is roughly the normal level. Events of the past 24 hours mean that the index has risen to around 37.
As the table from JP Morgan below demonstrates, volatility around these types of events historically tend to be fairly short-lived, generally lasting from around 1-3 months: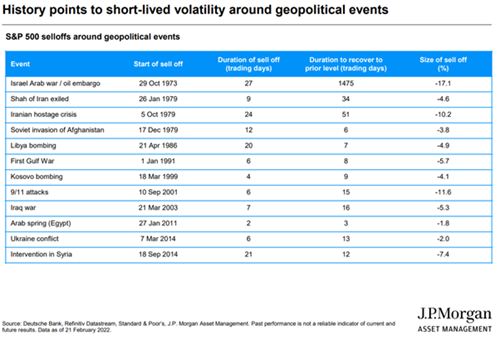 Where we can expect to see a major impact is of course on the cost of energy in Europe. The potential impacts of this will be felt globally. Oil has risen to over $100 a barrel for the first time since 2014. The Nord Stream 2 pipeline project between Russia and Germany has been suspended. Gas supplies in Europe (which depends on Russia for more than a third of its gas supply) have been running low since 2021 causing a rapid increase in prices over the past few days.
Much will depend on the reaction of the West and the impact of the sanctions they are imposing on Russia. Time will tell how as to how successful they will be in de-escalating the conflict.
The coming days and weeks will certainly be an uncomfortable time for markets in this volatile period however we must remember that we are long-term investors. Sitting tight and weathering these stormy times are often the best course of action.
We are shortly due to publish our bi-monthly Investment View which this month is a guest publication from the fund house Baillie Gifford regarding long term investing. We would highlight the following paragraph which reflects our views on taking a minute to step back from the short-term noise, analysing the situation and avoiding any knee jerk reactions:
"A reporter once asked Mike Tyson if he worried about Evander Holyfield and his fight plan ahead of a world title bout. He famously replied, "Everyone has a plan until they get punched in the face". The same can be said for long-term investing in many ways. Everyone is a long-term investor until they figuratively get punched in the face. Like a boxer, investing is all about what you do next. You can get out the ring, irrationally react, or you can revisit your initial objectives and if nothing has structurally changed, you can carry on as you were." 
We will continue to monitor the Ukrainian situation very closely and take any necessary steps, such as a temporary halt to rebalancing instructions, if the need arises. Our approach remains not to attempt to be dependent on any macro-economic environment but place our conviction on the strength of the fund manager to identify opportunities which will deliver over the long term.
The article above is intended to be a topical commentary and should not be construed as financial advice. Past performance is not an indicator of future returns. Any news and/or views expressed within this document are intended as general information only and should not be viewed as a form of personal recommendation.